As a song, stage and screen veteran, Kirsti brings her unique style to each session, sharing her performance skills with aspiring singers and performers.  With over 25 years in the music business, her "How Bad Do You Want It?" mantra challenges performers as she guides and coaches on stage presence, blocking a song, vocal troubleshooting, studio performance, microphone technique, movement and charisma.  Four albums, TV and film sets, and countless live performances around the world make Kirsti a sought-after consultant and mentor for up and comers.
"I want each client to connect with the character in their songs, tell a story and move people.  I encourage each artist to make the opportunity on stage a time to really shine and invite the audience on their journey."
Kirsti tailors her sessions to help each client individually, and has specific methods that help each individual reach their goals and expectations.  "How Bad Do You Want It" is also the message in Kirsti's speaking/singing presentations. Through a one-woman show experience, it is designed to inspire and motivate listeners to access their own potential.  The energy, creativity and sense of play that lives in Kirsti Manna, the universal emotions and realities of life depicted in her songs, her love of life, and her ability to inspire others is what you experience when you meet or work with Kirsti. She is a true renaissance artist, someone whose talent transcends a single genre.  
Kirsti is also available for studio and live private performance coaching.  

"Kirsti has taught me about the music industry, as well as what to do and not to do on stage.  She catches every little detail, and really knows how to perfect a performance." ~Ali Henderson (American Idol Semi-Finalist 2014)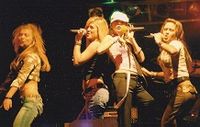 "Working with Kirsti is a totally awesome experience! She knows how to tighten up the weak spots in our show. After a session with her, we always feel like we look and sound so much better and that we are so ready for our performance!" ~ iCande