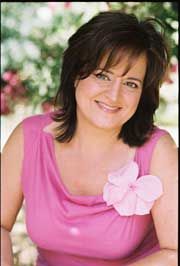 Kirsti Manna's 6 week Billboard #1 smash hit, "Austin" introduced Blake Shelton (NBC's "The Voice") to country radio.  She is a Nashville-based creativity expert/speaker/songwriter/publisher and performer.
She's also the co-writer/co-publisher for Big & Rich's rockin' hit, "Loud" (WB/Nashville). Artists such as pop star Tiffany and Colt Prather (Sony Nashville), and many others have recorded Kirsti's songs.  Her songs have been heard around the world in such places as CMT,  The CMT Awards, ESPN, The Kelly Clarkson Show and Gayle King's Grammy Special among others.
As a keynote speaker/concert performer and workshop facilitator, Kirsti has shared her music and message worldwide bringing laughter, encouragement and inspiration.
Her online course Spark Your Creativity helps and encourage self discovery and tips on how to live a successful creative life.
As a creativity expert, Kirsti is a monthly contributing author for Healthcare Business Today which has a readership of 90,000.
Her podcast, KIRSTIcast focuses on guests who are entrepreneurial girls and women and can be found on all streaming platforms and YouTube. https://www.spreaker.com/cms/shows/4365008/dashboard?filter=NETWORK&network=11665923
Kirsti is the founder of Songwriter Girl and Songwriter Girl Camps, www.songwritergirl.com whose mission is to bring together girls of all ages partnering songwriting education, confidence building and creative empowerment.  Her Nashville-based camps have attracted artists and industry pros to gain knowledge and experience. She is also a career coach, mentor and life coach.
An actress with numerous credits include creating and starring in her own national children's TV show, "Kirsti's Manor" viewed by 34 million homes.  
As part of the duo "You've Got a Friend - the music of Carole King and James Taylor", she headlined with symphonies in performing arts centers and venues throughout the US and Canada.
Kirsti has added record label executive to her credits as VP and Creative Director of Publishing for the Nashville based indie label LuckySky Music. 
Kirsti is currently writing a self help book,  Whatever You Do, Stay Inspired  to encourage creatives on how to hone their creative gifts and gain the confidence to pursue an inspired life.
---
For performance and songwriting coaching inquiries please email me at 
kirsti@kirsti.com
. 
For keynote concert and workshop bookings contact:
Bill Warner
WarnerWorks