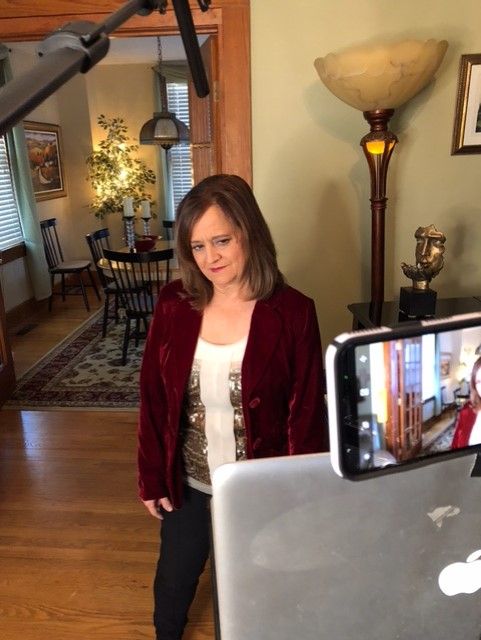 (Kirsti getting creative on the set)
Hi Creatives! 
When I first started to get into professional songwriting in Nashville, I learned from the best in town. I put myself into writing sessions that scared me! What I mean by this is I wanted to be challenged by the experience. 
At first this stopped my creative flow, because I was worried that my ideas weren't good enough or wouldn't be accepted. 
I was afraid, I let fear stop my creative flow. 
I had to build my confidence and part of building my own confidence was to just put it out there! My ideas, my melodies, my rhymes, my talent. 
What stops your creative flow? Do you trust yourself to just let it flow? 
I started practicing yoga a few years ago and one thing I learned about yoga was that transitions are the toughest part of the practice. In other words, how to flow freely and easily from one pose to another. 
Think of your creative ideas as yoga poses and don't be afraid to push through the transition from one idea to the next. Get into the flow! You can do it with confidence, style, and ease. You have the gifts, just don't be afraid to let them flow. 
I hope you will check out my new course "Spark Your Creativity: The Steps to a Successful Creative Journey." 
You can get my course by clicking this link. 
https://courses.kirsti.com/courses/spark-your-creativity 
If you are a creative, and need a spark of creative flow, this course is for you! 
There is so much to this course, PLUS Bonus Content that you will receive. AND I'm offering special packages that include one-on-one consultation time with me, access to a private group, and more! 
Don't forget to follow me on Instagram and Facebook 
Love and Success, 
Kirsti 
https://www.facebook.com/kirsti.manna 
Instagram: songwritergirl1 
and PLEASE SUBSCRIBE to my Kirsticast YouTube Channel. Here's the link!